Any person starting a business, or currently running a business and concerned with limiting personal legal liability can have LLC. If you are a beginner getting an LLC may seem a complicated process. However, there is also an opinion that the benefits of an LLC outweigh the cost and hassle of setting up one. As it requires an initial formation fee. If you are confused about requirements, let's get into details and learn the essential things about LLCs.
Affiliate Disclosure: some of the links in this article are affiliate links. It means that if you buy through these links, we may earn a small commission to support this website at no cost to you. 
What is LLC?
LLC stands for "Limited Liability Company" is a business structure that works in the U.S. It protects its owners from personal responsibility for any debts that a business sustains. However, each state has its regulations for business structure.
If you are intended to wet your feet in business, a Limited Liability Company would be a great option. Unlike partnership and a sole proprietorship, the owner of an LLC is called a member. There is no limit on several members. However, some states allow "Single-member" LLCs, that have only one member. Also remember, some businesses are not allowed to be LLCs such as insurance companies and banks. Therefore, it is important to check all the requirements with the state.
To acquire LLC, you don't need a formal company, the simplest business structure is a sole proprietorship.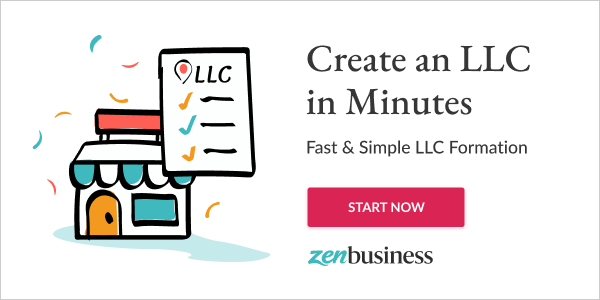 9 steps to get an LLC 
Here are 9 key steps you should follow to get your LLC:
Select a State 

Choose a name for your LLC 

File Articles of Organization 

Choose a registered agent 

Decided on member Vs Manager Management 

Create an LLC operating agreement 

Comply with other Tax and regulatory requirements 

File Annual reports 

Out of State LLC registration
1. Select a State 
Selecting a state will make it easier to decide on other things. Since the requirements slightly vary from state to state. There are different factors that you have to consider such as taxes, regulatory burden, workforce liability, and more.
While choosing a state consider corporate tax rate, individual income tax rate, sale tax, average property tax, and unemployment rate by state.
According to Bureau of Labor statistics, tax rates vary from state to state. For example, the corporate tax rate in New York, California, Minnesota, Ohio, Maryland, New Jersey, Lowa, and Vermont are quite high in comparison with Nevada, Florida, Alaska, South Dakota, and few other states.
Once you decide your state, move to the next step which is choosing a name for your LLC. 
2. Choose a name for your LLC 
Choose a name for your company considering the state's rules. However, one thing common is that your LLC's name end with an LLC designator, such as Limited Liability Company or Limited Company, or an abbreviation of these phrases. Also, the name must be new, not the same as the name of another business entity registered with the state you have chosen.
Follow these guidelines for your LLC name:
Must include "Limited Liability company'' or LLC or L.L.C

Not include the name that can be confused with a government agency (FBI, State Department, etc.)

Avoid restricted Words ( bank, Attorney, University)

The name must be distinguishable from any other limited liability, corporation, or limited partnership
If you are planning to register after a year, you can reserve your LLC right away online. 
3. File Articles of Organization 
Articles of the organization are filed with your state's corporate filing office, often the Secretary of State. Some states use the term "Certificate of formation" instead of articles of organization. Meanwhile, the State of Massachusetts and Pennsylvania call the document "Certificate of the organization". Article of Organization is available online or you can access the form on your Secretary of State's website. For the form, you need your LLC's name, the name, and address of its registered agent, and other basic information. There is a small fee for the article which varies from state to state. Mostly start with $100.
4. Choose a registered agent 
A registered agent is an individual or company that agrees to accept legal papers on the behalf of your LLC if it is issued. Also, receive important tax forms and legal documents. The registered agent must have a physical state.
Who can act as a registered agent?
A registered agent must be a resident of the state or corporation and authorized to transact business in the same state. Some commercial registered agents act as an agent and take a fee for the services. For example, ZenBusiness and Swyft Filings. An LLC member can act as a registered agent for the limited liability company.
5. Decided on member Vs Manager Management 
LLC follows two basic business structures including the member-managed and manager-managed company. It depends on the choices, if it's a small company, a member-managed structure will work out. In member-managed, members are able and willing to be involved in the day-to-day decisions and operations of the business. However, in a manager-managed structure, members do not wish to involve in day-to-day affairs, and the company chooses managers out of business.  
It is incredibly important for your business, therefore, you must spend time before making the choice.  
6. Create an LLC operating agreement 
LLC operating agreement is an internal document that outlines the duties of members and ownership. It is not required officially. However, it is recommended to create one, otherwise, the state will create one. There are six main sections of the document which includes details about;
Organization

Management and voting

Capital contribution

Distribution

Membership Changes

Dissolution
7. Comply with other Tax and regulatory requirements 
These are additional taxes and regulatory requirements which can be applied to your LLC:
– EIN (Employer Identification Number)
It is also known as Federal Employer Identification Number (FEIN), or federal Tax Identification Number (FTIN). It works like social security number for your LLC. If you are a single owner, you will need an EIN to hire more people or to open a bank account.
– Business Licenses
It depends on the state and location where your business is registered. You can check with state agencies to ensure your business is registered, licensed, and permitted to carry on business in the state.
– Sales and Employer Taxes
If you have employees in your company, you need to register with the appropriate state tax authority.
8. File Annual reports 
For filing annual reports, check out the rules in your state. However, the state needs LLCs to file an annual report with a filing fee. The fee can be as high as $800 per year depending on the state.
9. Out of State LLC registrations
 If you are willing to open your business in another state. You need to register your LLC in that state and appoint a registered agent again. Also, check the state rules and regulations for opening a business, they might be different.
Best LLC Services Review 2021: ZenBusiness vs Swyft Filings
image source: Unsplash
ZenBusiness and Swyft Filings both are the best incorporation and LLC service providers. Both provide the best services and are popular for LLC formation. However, there are a few key differences and similarities in their service. Let's discuss a few of them. 
ZenBusiness vs Swyft Filings Similarities
Both provide a way to start a new company

They both have an online process, and no manual filling of papers is included

Both of them help you to form a new corporation or LLC

Both act as Registered agent

They help you draft all the essential documents of your business

For your company, they provide ongoing services including annual report filing

They also help you find business name-checking the availability of the name

Both offer formation packages to choose from

Both are excellent companies with customers reviews
ZenBusiness vs Swyft Filings Differences 
Swyft Filings helps non-profit corporations as well, however, ZenBusiness cannot help non-profit corporations 

Swyft Filings provides one-time service and charge fee, also adding an option for ongoing service 

There is a slight difference in their pricing strategy.

Swyft Filings services take a little longer, however, ZenBusiness provides quick turnover

Swyft Filings charge more for Registered agent service, whereas ZenBusiness charge less

Swyft Filings offers more extra services in terms of management, however, ZenBusiness has fewer services
ZenBusiness review 
ZenBusiness provides excellent LLC services that are acknowledged by the customers through 7310 reviews. It also has a good refund policy and canceling an account with a 60-day money-back guarantee. The services are provided in 50 states including DC. It provides free compliance services covering your annual filing. It's quick and responds promptly. Customers also get two free amendments each year as part of the Worry-free Compliance service. Besides, it has a very good pricing plan, affordable, and with great features. The company gives 25% off on the first year of registered agent service.
Go to ZenBusiness
ZenBusiness Services Overview
ZenBusiness provides multiple services in LLC business including its three plans. It also offers a special starter plan only for $49. At the end of the year, charge only $119 for the annual Report service. The company provides a digitally file EIN with IRS. Overall, customers have the best reviews about its services. As one customer wrote, 
    "The service was so quick, so efficient, and more importantly, so worry-free."
Another said, 
               "Excellent service, Emails about progress! Great customer service."
ZenBusiness Pricing packages
ZenBusiness Starter Plan features – $49
Prepare and File LLC

Standard filing Speed 

Annual Report Service 

Operating Agreement Template 

100% Accuracy Guarantee 
ZenBusiness Pro Plan features – $199
Besides the features of starter, it adds more features including:
Worry Fee Compliance 

Banking Resolution Template 

Employer ID Number ( EIN)
ZenBusiness Premium Plan – $299
Besides the features of Starter and Pro, premium provides more services including:
Business Website 

Business Domain Name 

Domain Name Privacy 

Business Email address 
ZenBusiness Pluses
As a new company, it has provided incredible services and its strengths includes;
Easy to use website 

Affordable packages 

Offer free operating agreement under every package 

Customer satisfaction is high 

Socially conscious organization 

All-inclusive business formation service
ZenBusiness Minuses
Even though they have built themselves as a reputable business and provide excellent services, there are few disadvantages. Which includes:
The domain name and website hosting is more affordable elsewhere 

Recurring fee for registered agent service in the basic package 
Go to ZenBusiness
Swyft Filings review
Swyft Filings aims to save money and time by providing a fast turnaround. It's a company that specializes in the formation of limited liability companies, corporations as well as non-profit organizations. It is in the business of LLC since 2012 and has served thousands of new businesses.  The company helps entrepreneurs by handling their business formation process. Additionally, it offers free accounting consultation and resources at a low price. The company is reliable for LLC formation.
Go to Swyft Filings
Swyft Filings Services Overview
Swyft Filings provides excellent services for its customers. The users' reviews show that they are satisfied with the services. Swyftfilings provides services including name availability search, preparation of article of organization, statement of incorporation, online access to documents, compliance card company alert system, bank resolution, custom meeting minutes, digital business kit and seal, electronic document delivery, FedEx shipping, and much more. One of the customers wrote, 
''Calling and solving the problems didn't take more time than I expected. The representative was very helpful and professional.''
Swyft Filings Pricing packages
Swyftfiling Basic Plan Features – $49
Verify availability of Company Name 

Prepare articles of organization 

Document filing with Secretary of state 

Free statement of the organizer 

Online access to the documents 

Lifetime customer support 

Free 30 minutes business Tax Consultation 

Compliance Guard Company alert

Free domain name 
For other features, you have to pay the extra amount fixed. 
Swyftfiling Standard Plan Features – $149
All the basic features included, it has some additional features which are:
Obtain Federal Tax ID (EIN) 

Custom LLC operating agreement 

Custom LLC banking Resolution 

Custom organizational Minutes 
For everything else, you have to pay a certain amount.
Swyftfiling Premium Plan Features – $299
 Premium Plan includes all the features of basic and standard adding few more services:
Electronic Delivery of State Documents 

Customized Digital LLC kit

Free business website and web hosting ( only for premium users)
Expediting options and shipping options depend on the state you chose. 
Pluses
It has an affordable pricing model with flexible services 

Personal and direct customer service 

Good turnover times 

Customer satisfaction is high
Minuses
Excessive upselling 

Service listings are not clear 

Registered agent service not included with formation packages 
Go to Swyft Filings
Sum Up
LLC (limited liability Company) registration is easier in the presence of companies like ZenBusiness and Swyft Filings. The complicated process of registration and documentation is handled by these companies accurately, authentically, and efficiently. Now you do not have to worry about the complex process if you are looking forward to opening your own single-member Company or corporation.
Meanwhile, it is essential to understand the basics of the services, and charges that cost you to register your LLC. By comparison, we can make better decisions in terms of services we require, costs, expenses, and continue services we require.
I hope that this information will guide you in your journey to register your business smoothly and without being worried.