The world isn't the same as it used to be before last year. The pandemic accelerated the shift to digital solutions and online commerce. Users increase the time they spend online, explore new platforms, and spend more money there. We can shop using different elements of headless eCommerce, such as voice assistants and TVs. 
And the main trend is the popularity of social networks. Why did people flock to social media so swiftly? Because they want to stay connected with the rest of the globe. 
With the growth of social media and online purchasing, digital marketing has also changed. Many well-known firms created their accounts on Instagram, Facebook, and Pinterest. And marketers develop their eCommerce social media marketing strategies to bring more customers.
How can social media contribute to a brand's success? Apart from the usual sharing of information, social networks facilitate trading in various forms. Brands can connect their accounts to their online stores, attach links to products with shoppable tags, and launch live streams.
Users can read, comment on, and distribute product-related posts there. Not to mention their private information. And this sector is growing at an unprecedented speed.
Grand View Research forecasts that the global social commerce market would reach more than $3.000.0 billion by 2028. Plus, its CAGR is predicted to be 28.4% from 2021 to 2028. This article will explain what social commerce is, its benefits to businesses, and its potential.
Social Commerce Definition
Social commerce is a process when social media and the selling of goods and services meet. It also encompasses all sales-related marketing campaigns on Facebook, Instagram, and other platforms.
When social networks first became popular, their visualization abilities aided firms in showcasing products and informing customers about new ones. However, it has evolved into much more than simply posting photographs or videos to promote a product.
Fashion, cosmetics, and other businesses can use eCommerce social media marketing to persuade customers to shop online without leaving social media. With the help of business accounts on Facebook and shoppable tags on Instagram and Pinterest, brands can now turn their pages into full-fledged channels for selling things.
Link your posts to a website or product page. That way, shoppers can jump right in and add the product to their cart. Shoppable tags will help you do this. To understand that an Instagram post is tagged, you can see the bag icon in the lower-left corner.
See how Maurices did it in the screenshot below. You can see the price by clicking on the photo and going to the tab with a link to the store.
The screenshot was taken on the official Maurices Instagram account
What Impact Does Social Commerce Have on Online Retail?
There are six ways how eCommerce social media marketing shapes the minds of online buyers and increases sales.
1. Mobile Shopping Growth
Social media platforms are about smartphone usage. Statistics prove that 78% of users utilize only mobile phones for social media browsing. And 1.32%, or 50 million, connect exclusively via desktop computers.
Social networks as a tool for reaching out to mainly mobile audiences boost mobile shopping. Can you guess which brands have a whip hand in this competition? Those that provide a smooth mobile shopping experience.
The rapid growth of mobile traffic has been one of the most prominent digital trends in recent years. It has an impact on consumer behavior as well as sales technology. Smartphones and high-speed mobile Internet are becoming increasingly accessible.
What does it mean for store owners? Switching from desktops to smartphones entails a movement in content perception principles. A smartphone owner enters a search query and expects a rapid and relevant response with the least effort.
It's inconvenient to open multiple tabs and switch between them at the same time. As a result, you need to make sure your store is mobile-friendly and ensure that it loads quickly. These features are possible with progressive web apps (or PWAs), as shown in the screenshot below.
Can you tell that the Foodl PWA isn't a native app but an optimized website? It weighs almost nothing but provides all the features for polished shopping from a mobile device.
The screenshot was taken on the official Foodl website
2. Influencers Will Shape Purchase Decisions
Why do merchants offer opinion leaders to collaborate with them? Influencers have a significant following of devoted supporters who are willing to listen to their advice. They can enhance brand recognition within their target followers.
Some companies provide bloggers with free products; others pay for an ad. However, the ultimate purpose is to present the product to subscribers in the most favorable light.
Remember that you shouldn't pay influencers for positive reviews. Everyone will discover it soon and blame both the blogger and you for the fraud.
Instead, invite influential people to your lectures and events, or host a contest. To summarize, use several levers to incorporate influencers into your brand's eCommerce social media marketing plan.
As proof of my statements, I've attached an example of a collaboration between ASTR the Label and Heather Martin, "The Bachelor" star.
The screenshot was taken on the official ASTR the Label Instagram account
3. Live-Streaming and Video Content Will Allow for Direct Shopping
Videos can inspire a worldwide challenge. They can become viral and help the audience to better communicate with retailers and leave feedback.
Video sharing is possible on all major social media sites, accounting for most of the content. Many online stores now offer their products on Facebook Live or TikTok. To market their items, some brands use Instagram Reels and Snapchat presentations.
How are live streaming and videos beneficial to online stores? Brands can demonstrate their products in real-time, connect with their target audience, and provide a behind-the-scenes look.
If you go to the official Paula's Choice Instagram account, you'll see that their videos have specific tags in the IGTV section. They give you immediate access to the products featured in the video.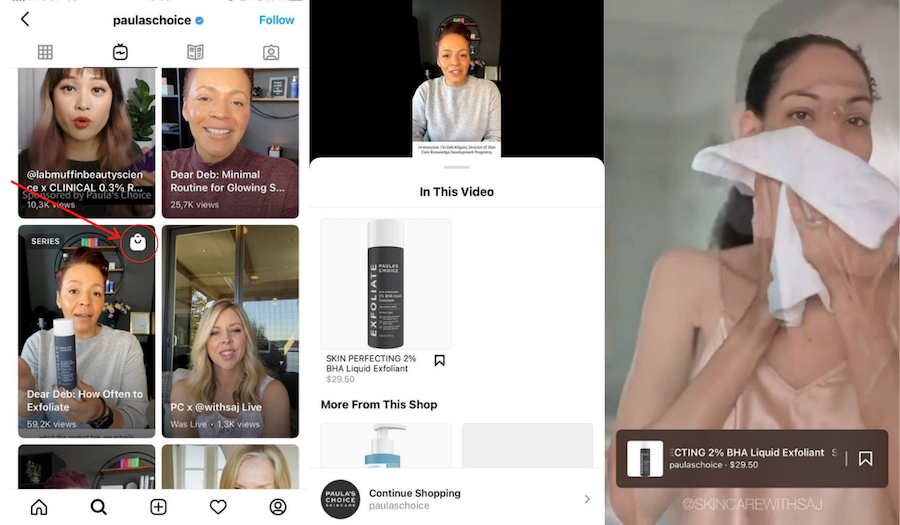 The screenshot was taken on the official Paula's Choice Instagram account
Another example of how social media shape online shopping is the TikTok and Shopify cooperation. TikTok will allow Shopify stores to tag their goods during short films and live streams. There will be a button that will take viewers to the product page and enable them to purchase without leaving the platform.
4. Chatbots Will Provide Instant Support
Many retailers have turned to the Internet and social media as a result of the pandemic. What do people want on social media? They want to send messages and receive a response immediately. And social networks provide brands with the opportunity of instant reply thanks to chatbots.
Online merchants can communicate with customers using chatbots in messengers such as Facebook Messenger. People may access information and make purchases at any time. It's a more convenient way to assist customers and serve sellers.
Here is an example of a Facebook Messenger chatbot in the screenshot below. Kayak introduced this function to shorten the sales cycle and improve the purchasing experience.
Customers may find flights, hotels, and things to do in a city they like. If the chatbot can't offer the required information, you can adjust the search.
The screenshot was taken on the official Kayak Facebook page
5. Distribute User-Generated Content (UGC) as Social Proof
There's no better way to increase consumer confidence than truthful reviews. Besides, UGC provides your account with unique content.
Let's say we go to the store, see the price, study the product's characteristics. But how does it feel and perform in reality? We start to look for feedback. That's how most people's logic works.
And if you, as a brand, want to enhance your social media, repost what your customers publish with your brand mention. Thus, followers won't need any other social proof that your brand is worth it. If hundreds of people choose your brand, there is a good reason for it.
Polished commercials don't work anymore because people crave feedback from real people. Actual buyers won't embellish. They've got nothing to hide and share their opinions. So, instead of employing company representatives to talk about how good your products are, use this content source.
6. Applying Augmented Reality
Immersive reality originally appeared as a kind of user entertainment. Now it's more than fun between friends. It's a potent eCommerce social media marketing tool as this solution can substitute a virtual try-on.
And what's the main benefit of using it on social media? The answer is apparent: your followers won't need to open links and go to the website to see how the product will fit.
They can stay where they are and enjoy interaction with your brand. And you, in turn, don't need to use additional technology to implement on your store. Creating masks on Instagram or Snapchat is much easier.
Social media aim to facilitate communication between brands and customers. With the growing popularity of virtual try-ons, marketers may benefit significantly from the adoption of AR via social media. It has the effect of surprise, freshness, and uncommonness, which can enhance conversion, recognition, and consumer trust. As a result, we may anticipate the AR experience becoming more relevant and useful in the future.
Snapchat implemented augmented reality first among social media. I mean, the core of this platform is based on masks and numerous effects that take users to a different reality.
Cosmetics, clothing, and even food brands can design lenses with their products. Take the case of Snapchat and Gucci, for example. They offer unique masks that allow you to try on footwear and cosmetics.
As shown in the screenshot below, Gucci meets users directly on their social media profiles. You can try on foundation, powder, lipstick, and mascara; examine different shades. And at the bottom, there is a "Shop now" button, which takes you to the store's website.
The screenshot was taken on the official Gucci Snapchat account
Social Commerce: Will It Transform Online Retail?
Consumers will find it more and more convenient to shop online thanks to social commerce. Social media has already become more transactional with live streaming and shoppable tags. Besides, new means to market products may emerge.
It will provide enormous benefits to all participants of online trading. The customer journey will become frictionless thanks to social media. Buyers won't need to navigate a website or install an app to look for a product. By making shopping more convenient, retailers will be able to increase conversions.
However, shoppers still don't trust social media when it comes to shopping. According to BigCommerce, only 30% of online shoppers are willing to buy through social media platforms right now.
Accounts are vulnerable to hacks and attacks. Users aren't sure how social networks will protect their personal information and banking details. Therefore, social media and stores need to work together to develop security plans.