I can hardly remember a time when a drop shipping business model was as popular among entrepreneurs as it is now. Browsing the internet and making research on the popularity of modern business niches I came across drop shipping business opportunities. Since I also have successful experience with dropshipping business, I'd like to share everything you need to know about dropshipping.
So, let's dive into details about what dropshipping is and how to start a dropshipping business today.
What is a Drop Shipping Business?
Dropshipping is a retail method when your partner, not you, is keeping the goods in stock. In simple words, it is a business model where you act as an agent between business and customer. Here is the process of how dropshipping works:
Find a business niche you are interested in

Find a product manufacturer and agree with him on collaboration terms

Sell your partner's products

Tell your partner order details and customer information

The partner sends his product to a customer

You earn your commission
Quite simple! Agree?
So, even if you are not an e-commerce expert, you have all the chances to get success in a short period of time. And that is the reason why so many entrepreneurs start with a dropshipping business.
What are the benefits of starting a dropshipping business?
It is safe. You shouldn't focus on goods in stock and their on-time delivery;
It is fast to start. You don't need to have deep knowledge of business, that is why the drop shipping business model is just perfect for starters.
It is flexible. If you see that your product demand is decreasing, just change the product.
It is simple to run. You only need to concentrate on promoting your business.
But there are some tricks that impact whether your dropshipping business will be successful or not.
Here is the step-by-step guide that will give you an understanding of how to start a dropshipping business that will allow you to start doing actions today.
How to Start a Drop Shipping Business For Beginners
Step 1. Find a drop shipping business idea
How to find drop shipping business ideas? What I like the most about dropshipping is that you have a variety of choices. You don't need to select one niche and dive into its deep business and marketing analysis.
All you need to do here is to select the most popular and high-demand goods.
Make sure people search it on the internet:
Search for the most wanted and most sold items.
Try to search for top-selling items on Amazon.
Check trends and search volume for your business niche.

Step 2. Find dropshipping suppliers
Do you know what is the best drop shipping business to start? The one when you focus on a strong partnership. So, if you wonder how to start dropshipping today, you should think about finding reliable partners.
Actually, the ability to find the right partners is the key to success in a dropshipping business. Since your future customers don't care whose fault it is that the shipping is too slow or, for example, too expensive.   
Also, you should know that not everyone is ready to dropship and it may take time to find a partner.
Start with creating a Google spreadsheet to manage the list of manufacturers and suppliers you find, and add the following information there:
partner's website

partner's products type

contact details

date of first contact

status of communication
Make sure to update the document every time you work with the list.
Top 10 drop shipping programs
There are a lot of supplier directories where you can find a partner for the dropshipping business.
Here is the list of the most popular and highly popular directories among the starters:
1. Importify
All-in-one drop shipping solution for your business. Importify is a great fit for the starters as well as experienced entrepreneurs. Here is what drop shipping business opportunities you can get:
Product Research to find winning products for your niche by spying on other successful Shopify stores.
One-click Product Import from top dropshipping suppliers including AliExpress, Alibaba, Amazon, Etsy, Dhgate, Lazada, Shopee, Banggood, and more.
Product Customization to customize product details such as title, description, images, variants, and pricing for the imported products.
Easy Supplier Change to switch product vendors and connect the new supplier to your store with just a click.
Connect Existing Products that are already present on Shopify, WooCommerce, or Jumpseller stores through Importify.
Shopify to Shopify Importer through Firefox extension to easily import and dropship products from other Shopify stores.
2. AliDropship
The company focuses on AliExpress dropshipping business opportunities. Here are the options you may get with them:
AI-Powered propshipping store. It starts from US $299 (one-time payment).
Replicated top-performing store. It starts from US $300 (one-time payment).
Plugin-based solution for self-management.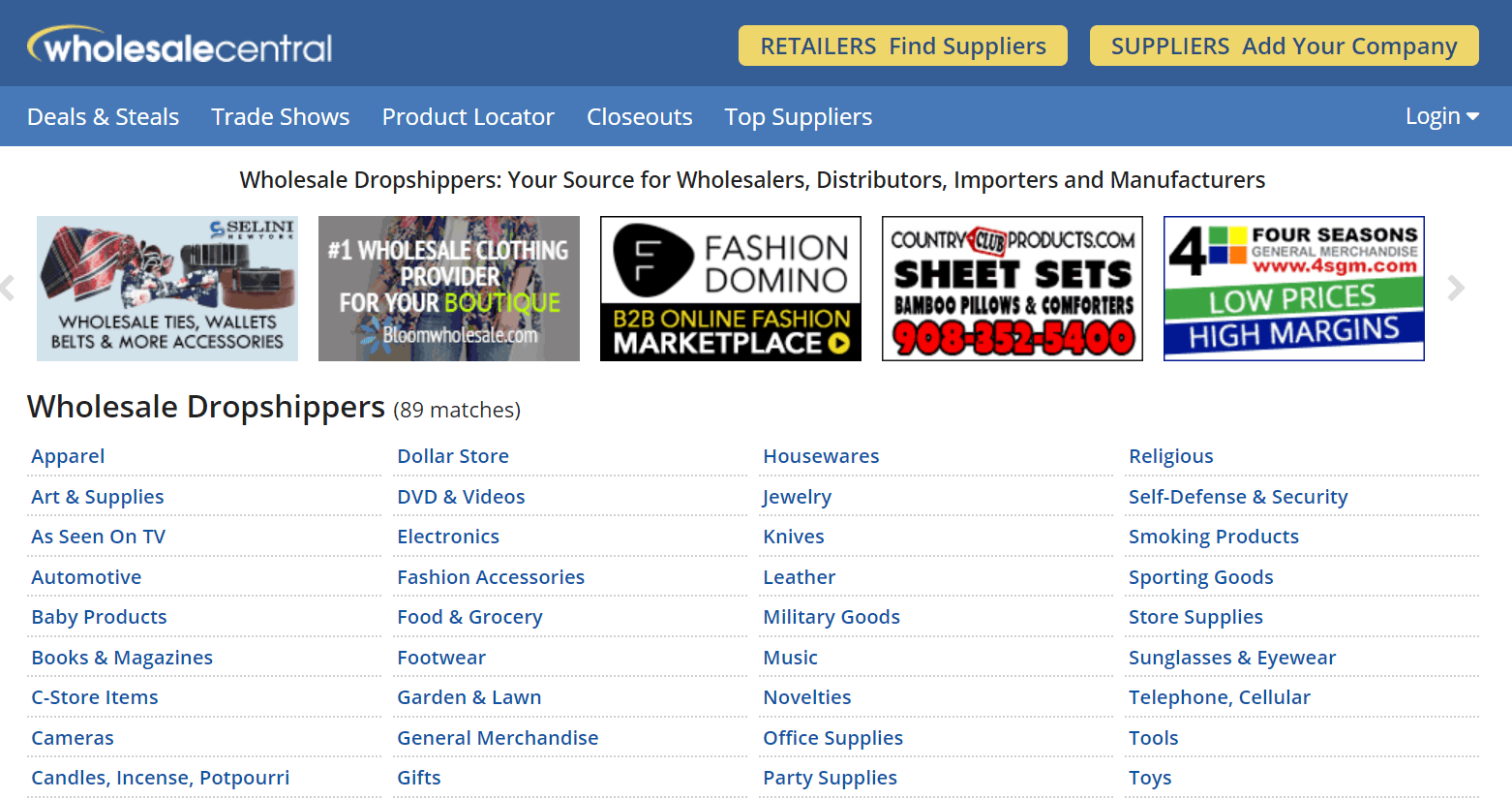 From my personal experience, you can find good manufacturers with beneficial collaboration terms quite easily if you pitch them correctly.
You can also use social media like LinkedIn to connect with decision-makers. Remember you are building win-win relationships and you should show a manufacturer the benefits of working with you.
Advice! Phone calls work better. But emails are also fine.
To tell the truth, manufacturers are more likely to work with big companies that guarantee good sales volume in comparison with a starter who doesn't have experience, website traffic, and loyal customers.
But it is not as disappointing as it may sound.
A dropshipping business model is so popular among starting entrepreneurs. And it means that this business can give you a good start in building something BIG.
How to write a drop-shipping request email?
First of all, writing an email, remember you are contacting a human. Try to sound natural and not spammy.
Your email should be brief and to the point. A person reading your email should understand who you are and why you are contacting them.
Also, it is better to make the final sentence a question.
Here is a simple template for a dropshipping partnership request:
Hello [managers name],

My name is [Your Name] and I represent the company [Your Company Name]. We are about to launch our new e-commerce website [yourwebsite.com] and we are looking for suppliers to collaborate with on a drop-ship basis.

Our team has developed a marketing strategy based on the target market analysis that will help us to promote effectively and increase sales once we launch.

Could you please tell me how we can apply for an account to collaborate with you?

Best regards,
Once you get a reply, give a prompt response to show your interest in collaboration. In most cases, you'll be asked to provide information about yourself by completing simple forms.
Step 3. Create an e-commerce website
Starting a Dropshipping business can be a hustle if you do not know the right e-commerce software which is a big part of the business. Dropshipping businesses require a platform that has an e-commerce storefront, high demand for products, and exceptional services. Big Commerce and Shift4Shop both support their users every step of the way and provide the right tools for success. With these two, you can start Dropshipping in a few hours and successfully run an online store. 
Meanwhile, the decision of choosing the platform depends on various factors including user experience, payment plans and cost, design and themes, transactions and credit card fees, payment methods, shipping, SEO, and marketing tools. 
When it comes to ease of use and navigation, both are pretty good and provide high-quality services. It is important to know about the services offered before going to make the final decision. Let's get into detail, and make our decision based on complete and authentic information.
Also, when you decide to Launch Dropshipping business, keep these three points in consideration;
Sign up with a marketplace like

Amazon

to sell products through their site 

Use platforms like BigCommerce, Shift4shop, or WordPress to set up an independent store 

Using the basic one, combine both methods
Using Dropshipping store with ready-made, customizable themes makes it easier and allows handling every aspect of your business.
BigCommerce vs Shift4Shop – what is better for Dropshipping business in 2023?
Shift4Shop is an E-commerce company that develops commerce software for businesses. Its current customers include 200,000 plus with 3.5 billion annual transactions. It's an industry-leading eCommerce platform with inbuilt features for managing every aspect of the business. It offers various free services including a free domain name, free website themes, and a free SSL certificate. Also, offers the best product page, customer relations, inventory control, and business management. Shift4Shop dropshipping will grow your business! 
Is Shift4Shop legit? Definitely! Shift4Shop has all the features needed to set up Dropshipping business and connect with suppliers. It is a mobile-friendly, search-engine-optimized e-commerce site. It has accurate shipping rates, built-in integration, email notification, and access to top-quality suppliers. 
Though initially it was known as 3Dcart, in 2020 it was rebranded offering an eCommerce website builder. 
Key Shift4Shop features
Unlimited Categories and Smart Categories 

CMR (Customer Relationship Manager)

Unlimited Product Images and Zoom 

3dfeedback Customer Surveys 

Return Merchandise Authorization (RMA Module)

Product Comparison and multiple Ship-To Checkout 

Visitor IP Blocking and product review 

Powerful website builder with core themes 

Automatic integration of Google AMP for product page 

Optimized code to ensure the importance of page element 

Easy to view, edit and save Carts /customer accounts and check out 

Convenient and flexible payment processing with unlimited end-to-end commerce plan 

Design customization and built-in features with core template engine 

Mobile response design

Phone orders and Manual order processing / Printing labels for popular shipping carriers like USPS, FedEx, UPS, and more 

Built-in SEO tools/ Built-in Blog 

Social wish list and Coupons and discounts 

Promotion Schedulers 

And much more
Shift4Shop Pluses
Shift4Shop provides basic website tools that are easy to use along with a fully optimized dashboard

It has powerful built-in features and vital marketing tools to empower your business

Payment processing solutions help in avoiding a lack of methods 

It also gives the option to hire professional developers to design a store
Shift4Shop Minuses
Its features include a huge source of apps which sometimes confuse entrepreneurs to find what exactly needed

It doesn't have a wide selection of themes, templates are basic and simple
Shift4Shop Pricing
Though there is no difference in the pricing, however, the features and services differ from BigCommerce. The staff users with the plans differ, as it requires 2 staff for the basic, 5 staff for the plus store, and 15 staff users for the pro store. Having multiple store staff make it easier to manage the store, and lessens the burden of work. Also, there are no transaction fees required in any plan which is similar to the BigCommerce Platform. However, all three plans of Shift4Shop include unlimited products. You can include as many products as you can in your store. All essential features are included for the basic, and for the plus store, it focuses on a complete marketing suite.                                                 
All the pricing plans include:
No additional transaction fee 

Domain Registration 

Shopping Cart 

Unlimited orders 

Twenty/four/seven Tech Support 

Facebook store 

Secure Web Hosting 

50+Mobile-Ready themes 

Built-in blog 

Unlimited Bandwidth 

100+ Payment providers 

API Access 
Shift4Shop all three plans Basic, Pro, and Plus are paid monthly. Make your decision considering pricing, customer service and support, marketing features, payment processing, and reliable Drop shipping available.
Start free trial on Shift4Shop
BigCommerce review
BigCommerce has seen tremendous growth in the last few years contributing lifetime opportunities for entrepreneurs including Dropshipping businesses. Dropshipping set is set up in simple steps such as devising your selling strategy, choosing a pricing plan and signing up, creating a BigCommerce Drop-shipping store, choosing a product sourcing App, and starting to make money. With a single click, you can import products from various websites to your store. Such as Aliexpress.
Meanwhile, before jumping on BigCommerce and clicking that ''Launch store'' button, let's review the services to clear the fog away and help you make a better decision.
Key BigCommerce features 
Big Commerce provides the best sourcing apps, no transaction fees, and global sales. Moreover, offers entirely customizable themes including HTML, CSS, and JavaScript Code.  Also, you can choose either paid or free themes among a variety of collections which includes more than 120 templates. You can use a page builder visual editor with drag-and-drop functionality to frame your pages according to your interest. 
Here are the key BigCommerce features:
One of the most attractive features is no transaction fee to keep your profit margin higher 

You can reach out to users all over the world without border restrictions, customers can see prices for the goods in their specific currencies 

Customer support agent for language translation 

It offers only SaaS local development environment and allows you to test your site simultaneously on a tablet, mobile, and desktop. 

For traffic growth, it provides Advance SEO tools similar to Shopify's SEO 

Provides multiple layers of security and super-fast speed. For the prevention of unauthorized access, server-specific firewalls, file integrity scanners, and intrusion detection software is installed

You can also provide free shipping for specific products by creating a coupon code
BigCommerce Pluses
BigCommerce plans are very comprehensive and also available at a lower cost for advanced features

Multiple Currencies option is available

Real-time shipping calculations are available on any plan

No transaction fees are charged by BigCommerce, even if you use the third-party payment method

It has built-in product review functionality.

Great SEO features with Short URLs creation option, AMP format is available for all templates
BigCommerce Minuses
BigCommerce in comparison with its competitors charges quite a lot to avail abandoned cart functionality

Limit on annual online sales, if you reach the limit, you'll need to upgrade your plan to a more expensive monthly plan

There is so much similarity among the free themes available

Also, there are no shipping discounts available on any plan
Bigcommerce Pricing model
Standard ($29.95 a month)
No additional transaction fees

Unlimited Product, file storage, and bandwidth

Unlimited staff accounts 

Online Storefront, Point of Sale 

Amazon/eBay/Walmart 

Facebook/Instagram /Google shopping 

Mobile responsive website 

BigCommerce mobile app

Page Builder 

Single-page Checkout 

Apple Pay, Google Pay, Amazon Pay

Multi-currency 

Real-time Shipping quotes 

Professional Reporting Tools 

Product rating and reviews 

Tech support (Phone, Chat, Tickets

Many other

services

that you can check out 
Plus ($79.95 a month)
 Plus is one of the most popular plans including all the standard services with a monthly cost of $79.95. Additional services include:
Customer groups and segmentations 

Abandoned Cart Saver 

Persistent Cart 

Stored Credit Cards 
Pro ($299.95 a month)
Similarly, the Pro plan includes all the services provided under the standard and Plus plan with some additional services at a higher cost. Which includes;
Google customer reviews 

Product Filtering 

Customer product filtering 
Additionally, it offers 15 days trial to check which plan is right for you. 
Step 4. Promote your website
When you launched a website, it is time to think about the marketing and start a promotion campaign.
So, what are the best marketing strategies for promoting a dropshipping business:
Social networks

. Best for sales and drop-shipping business promotion are Instagram, Pinterest, and Facebook.

Product reviews.

Add reviews to your website to make it more trusty for new customers.

Influencers.

Find popular bloggers and influencers to promote your products. This strategy

Giveaways. Attract more clients by giving away a product and promoting it on Facebook and Instagram.
Start a blog. Write about your business niche, create product reviews, and inform shoppers about new products through your blog. It will help to attract organic traffic and more returning customers.
How much money can you make with dropshipping?
Dropshipping income can vary greatly. On average, some entrepreneurs make a few hundred to a few thousand dollars per month in the beginning. As they refine their strategies and grow their customer base, some reach five or even six-figure monthly. But these figures are just averages, and your results can differ based on effort, market trends, and other factors.
For example, Oberlo started as a dropshipping website and later merged with Shopify. They focused on helping entrepreneurs easily source products and manage their online stores. By providing a user-friendly platform and valuable resources, they attracted a wide audience of budding entrepreneurs. Their success shows how a well-executed dropshipping model, combined with effective marketing and support, can lead to significant growth and impact in the e-commerce industry.
SUM UP
As you can see the process of starting a drop shipping business is not very complicated. It is easy to start and grow following the steps described above.
Dropshipping is one of the best business models where you don't need to keep stock. You only take an order and send details to suppliers who then send the goods to your customers. However, low startup costs attract a lot of people creating competitive business space. Therefore, using platforms that can bring more traffic would help to cope with the competition. Both Big Commerce and Shift4Shop benefit users through effective store management, design, and themes. Both are user-friendly, and the price plans are pretty similar with different services. Also, the payment methodologies and use of multiple currencies make these apps more favorable for businesses globally.
Make your decision wisely, and make maximum profit out of these opportunities, and we would be happy to bring more informative pieces that would ease the decision-making process.
And remember, you can achieve everything with drop shipping business opportunities!
Time to take the first step and start dropshipping now!